With Labor Day in our rear view mirror it's time to look ahead to all the wonderful events that Fall brings.  Maybe it is the Floridian in me, but watching the season change and how nature explodes with color is my favorite time of the year.  There are so many things to do in Fall that I thought I would make a bucket list this year to make sure that I take full advantage of this time of year.
Here are a few things that I want to make sure check off my list:
Festival in the Park
I can't miss this event, especially since I live within walking distance of Freedom Park. I love strolling around and checking out the different vendors. It reminds me of the hundreds of craft shows that my Mom dragged to as a kid and it is always fun to see what unique gifts you can pick up for people.
This years event begins on Friday, September 19th and runs through Sunday the 21st. You can check out their website for more details: http://www.festivalinthepark.org/
Apple Picking
I have never been apple picking, so this is going to be the year! I had no idea that apple picking season can go from June until December. My favorite is Granny Smith so I will be heading out in mid-October to find these. Now I should probably start planning apple recipes because I have a feeling I may have a few laying around.
Want to find an orchard around Charlotte? There are lots of options to choose from, check out this list: http://charlotte.cbslocal.com/top-lists/best-places-for-apple-picking-in-charlotte/ 
UF vs LSU Game (in Gainesville)
My all time favorite Fall tradition is heading back to Gainesville to watch the Gators play. There is nothing like the energy on campus on a game day, tailgating under the oak trees and then yelling from the sidelines of The Swamp. It has been three years since I have made it back to Gainesville and I can not wait to get home.
Oktoberfest

With more than a 100 breweries attending and about 40 of them being from North Carolina Oktoberfest is said to be one of the best events in Charlotte and I have never been! This year's event is at the NC Music Factory and would put money on the chance of my day ending with a pretzel and beer cheese from VBGB.
This year's event is on September 27th (always confuses me that it isn't in October) and you can buy tickets here.
Pumpkin Palooza
For the 6th year (ah! how did that happen?) I am throwing a pumpkin carving party with my famous chili bar. This is my favorite event of the year.  I put out a chili bar with beef chili, vegetarian chili and the crowd favorite, white chicken chili. Finish it up with a selection of every topping you can dream and you have a crowd pleaser!  This year will be better than ever with a friend brewing his own pumpkin beer for tasting that night. It will be a great gathering of food, brews and friends to celebrate the season.
Hike Crowders Mountain
You would think I would have taken advantage of with a view like this, especially when it is only only 45 minutes from home. I've heard there are a few trails that can be a bit challenging so Meyer will be sitting this one out, but I am looking forward to checking out the fall foliage on this hike.
Yoga on Tap at Olde Mecklenburg Brewery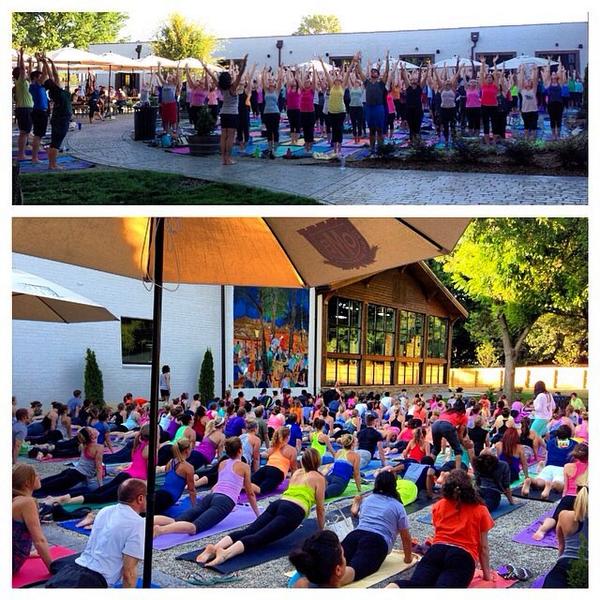 If you wanted to, you could take a free yoga class every day in Charlotte. There are so many wonderful options to take advantage of to get your namaste on for free! Lululemon has started hosting yoga at the new OMB location on Tuesdays at 6:30pm. The teachers rotate from a variety of studios around town and if weather permits the class is held outside. What better way to take advantage of the cooler temperatures and to enjoy the beautiful new facility at OMB (if you haven't been, you should check it out)?
Bike Rides with Meyer Pup
As a birthday gift to myself I purchased a sweet mint green beach cruiser. Dilworth is a great area to cruise around (except what is with all those sneaky hills?) and take advantage of the greenway nearby. In order to fulfill my goal of being the craziest dog lady on the block, I outfitted the bike with a basket for Meyer to ride in. I plan on seeing this view a lot this fall!
What is on your bucket list this Fall? Share in the Comments below!